Understanding Requirements for Below-the-Hook-Lifting Fixtures: An Introduction to ASME B30.20 
June 12, 2023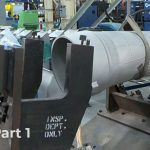 The Role of Precision Tooling in Mechanical Engineering: Key Considerations and Benefits
July 17, 2023
The manufacturing industry in the United States holds a significant position in the country's economy. It is characterized by a diverse range of sectors, including automotive, aerospace, energy, electronics, and more. While the industry has faced challenges in recent years, such as competition from global markets and technological advancements, it continues to play a vital role in driving economic growth, innovation, and job creation.
The manufacturing industry in the United States is grappling with a pressing issue: a shortage of skilled workers, particularly in the field of mechanical engineering. As experienced professionals retire, companies are finding it increasingly difficult to find qualified talent to fill the resulting gap. This shortage extends beyond mechanical engineers to include skilled engineers, technicians, and operators.
Driven by factors like rising labor costs abroad, supply chain disruptions, and a desire to support domestic production, the manufacturing industry has placed a renewed focus on reshoring, with more companies opting to bring manufacturing operations back to the United States.
The manufacturing industry is also undergoing a transformation due to advancements in technology and automation. Concepts like Industry 4.0, incorporating IoT, artificial intelligence, and robotics, are reshaping production processes, increasing efficiency, and improving productivity. Read more about what's next in manufacturing – https://enser.com/whats-next-in-manufacturing-and-what-does-it-mean-to-you/
Additionally, the manufacturing industry is experiencing a focus on sustainability and environmental responsibility. Many companies are adopting greener practices, reducing waste, and implementing sustainable manufacturing processes to minimize their environmental impact.
The Challenges Affecting the Manufacturing Industry
We assessed our own experience, the experiences of our customers and the industry as a whole and identified the top 7 challenges facing the manufacturing industry for the remainder of 2023 and quite possibly for the next several years.
1- Automation and Robotics
While automation and robotics have revolutionized the manufacturing industry, implementing and integrating these technologies pose challenges. Manufacturers need to ensure seamless collaboration between humans and machines, address safety concerns, optimize workflows, and train employees to work alongside advanced automation systems.
2- Advanced Materials
The demand for high-performance materials is increasing, particularly in industries like aerospace, automotive, and energy. However, developing, sourcing, and incorporating advanced materials into manufacturing processes can be challenging. It requires expertise in material science, testing, and quality control.
3- Sustainabillity and Environmental Regulations
As environmental concerns grow, manufacturing companies face the challenge of reducing their carbon footprint, minimizing waste generation, and complying with strict environmental regulations. This requires adopting sustainable manufacturing practices, optimizing energy consumption, implementing recycling programs, and reducing emissions.
Not only have we been providing environmentally friendly engineering services to the energy sector for the last 50 years, but we continue to improve our properties to make them more economically sustainable. In a growing effort to become more energy independent while reducing our carbon footprint, we recently completed a transition to solar energy, replaced HVAC equipment with high efficiency models and replaced lighting with energy efficient LEDs. Learn more about this process at https://enser.com/enser-continues-reducing-carbon-footprint/
4- Supply Chain Disruptions
Global supply chains have become more vulnerable due to geopolitical tensions, natural disasters, pandemics, and trade disputes. Manufacturers face challenges in managing and mitigating supply chain disruptions, ensuring a steady supply of raw materials, and maintaining efficient logistics operations.
A growing trend (learn more https://enser.com/reshoring-becomes-popular-among-us-ceos-82-percent-adopted-or-are-pursuing/) to combat supply chain disruptions is the process of reshoring. Reshoring refers to the practice of bringing manufacturing and production operations back to the United States from overseas locations. We not only recognize this trend but have been helping companies with their reshoring initiatives for the better part of the last 10 years, offering valuable expertise and support while navigating the complexities of reshoring, particularly in manufacturing and engineering.
5- Skilled Workforce Shortages
The manufacturing industry is experiencing a shortage of skilled workers, especially in the field of mechanical engineering. As experienced professionals retire, companies struggle to find qualified talent to fill the gap. Recruiting and retaining skilled engineers, technicians, and operators is a significant challenge for manufacturing companies.
We offer comprehensive staffing solutions to meet the diverse needs of businesses and candidates in engineering. With a focus on understanding the unique requirements of each client, we utilize and extensive network and expertise to source, screen (learn more https://enser.com/the-crucial-role-of-engineers-in-vetting-engineering-staffing-candidates/), and place top talent. Whether companies need temporary, permanent, or project-based staffing, our flexible solutions ensure access to qualified individuals who can seamlessly integrate into the team. By delivering reliable staffing solutions, we help businesses optimize their workforce and remain competitive during workforce shortage periods.
6- Customization and Personalization
Consumer expectations for customized products are rising. This poses challenges for manufacturers in terms of flexibility, scalability, and cost-effectiveness. Implementing agile production processes and adopting technologies like additive manufacturing (3D printing) can help address these challenges.
7- Cost Management and Competition
Cost pressures persist in the manufacturing industry. Companies need to find ways to optimize production costs, reduce waste, and improve operational efficiency. Additionally, global competition continues to intensify, pushing manufacturers to innovate and differentiate their offerings while maintaining competitive pricing.
We are a highly competitive company and have thrived in various market conditions throughout our long-standing history. With a commitment to excellence, we have proven our resilience and adaptability in the face of changing business landscapes. Since 1947 we have consistently delivered innovative solutions and exceptional services, maintaining a strong position in the industry. Through strategic planning, cutting-edge technologies, and a dedicated team, we continue to stay ahead of the competition and drive success, regardless of the challenges presented by industry conditions. The longstanding relationship, spanning 5 decades, with Siemens Energy is a testament to our ability to remain competitive and adapt to changing industry and market conditions.
Overall, while the manufacturing industry in the US faces many challenges, it remains a critical sector driving innovation, economic growth, and job opportunities. Embracing technology, reshoring initiatives, and sustainable practices are key strategies that can contribute to the industry's continued success, and that of your own organization.
Addressing these challenges requires a combination of technical expertise, strategic planning, and adaptability to changing market dynamics.
With a wide portfolio of services in engineering, and turnkey manufacturing, including tooling and fixtures, finite element analysis (FEA), industrial carts and below the hook lifting devices, we can assist you with your engineering and manufacturing processes. And when you need custom engineering staffing solutions, we offer comprehensive staffing solutions to meet your needs.
---
Ready to overcome the manufacturing industry challenges? Explore our comprehensive solutions and unlock your company's potential today!
---