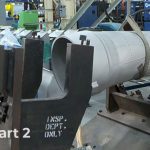 Part 2 – The Role of Precision Tooling in Mechanical Engineering: Ensuring Accuracy, Repeatability and Efficiency
July 19, 2023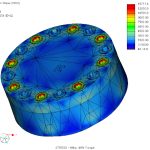 Precision Engineering: Achieving Accurate Results with FEA Simulations
August 14, 2023
In the realm of engineering, efficiency and safety are paramount. One crucial aspect of achieving these goals is selecting the appropriate below the hook lifting equipment. Whether you are handling heavy loads, rigging materials, or optimizing material handling processes, the right lifting equipment can significantly impact your operations. At ENSER Corp, we understand the significance of below the hook (BTH) lifting equipment and its role in enhancing productivity while prioritizing safety. In this comprehensive guide, we will delve into the world of below the hook lifting equipment (sometimes referred to as BTH devices or BTH fixtures), exploring the various types available, key considerations, and best practices for selecting the ideal equipment for your specific needs. Let's explore the possibilities together and revolutionize your lifting operations.
Understanding Below the Hook Lifting Equipment
Below the hook lifting equipment refers to a wide range of devices and attachments used to handle materials from overhead providing support and stability during lifting operations. These essential tools are specifically designed to safely lift, transport, and position various loads in industrial and construction settings. From lifting beams and spreader bars to hoisting equipment and lifting clamps, each type of BTH lifting equipment serves a unique purpose, making them vital assets in material handling. Below the Hook lifting devices conform to the ASME B30-20 Standard and the ASME BTH-1 Design Guideline, and we simplified the standard in our post
Understanding Requirements for Below the Hook Lifting Fixtures
.
Types of Below the Hook Lifting Equipment
Lifting Beams: Lifting beams, also known as spreader beams, distribute loads evenly and prevent load bending during lifting. They are particularly useful when dealing with wide or irregularly shaped loads, ensuring stability and safety, like the 300-Ton Lifting Beam we designed for a customer in the energy sector.
Spreader Bars: Spreader bars are designed to increase the lifting point and create an evenly distributed lifting load. They are suitable for large or long loads, allowing for efficient and balanced material handling.
Lifting Clamps: Lifting clamps are used to securely grip and lift materials, such as plates, sheets, and pipes, without the need for slings or chains. They offer a safer and more efficient solution for handling various types of loads.
Crane Attachments: Crane attachments, such as hooks, blocks, and shackles, are essential components that connect loads to cranes, providing a strong and reliable lifting connection.
Hoisting Equipment: Hoisting equipment, such as electric chain hoists and wire rope hoists, provide vertical lifting capabilities, making them ideal for tasks that require precise and controlled lifting. Hoisting equipment testing, like the Automated Hoist Testing System used in search and rescue operations, like in the Sikorsky MH-60 Jayhawk operated by the US Coast Guard.
Rotor Transport Skids: Rotor transport skids refers to specialized equipment designed to handle rotors or rotating machinery safely and efficiently during transportation or installation. These skids, like the 35-ton Rotor Transport Skid we built for a power generation company, are engineered with robust construction and lifting points, allowing them to securely support and carry heavy rotors with precision and stability.
Key Considerations for Selecting Below the Hook Lifting Equipment
Load Capacity and Size: Ensure the lifting equipment's capacity matches the weight and size of the loads you will be handling. Overloading can lead to hazardous situations, so accuracy in load calculations is critical.
Material Compatibility: Consider the type and material of the load, as certain lifting equipment may be better suited for specific materials. For instance, lifting clamps are ideal for gripping metal plates, while spreader bars are suitable for diverse loads.
Safety Features and Compliance: Prioritize safety by selecting BTH lifting equipment that complies with industry standards and regulations. Look for additional safety features like automatic locking mechanisms and overload protection.
Environment and Application: Evaluate the working environment and application requirements to ensure the lifting equipment can withstand the conditions it will be exposed to, such as extreme temperatures or corrosive environments and high-duty cycles.
Ease of Use and Maintenance: Choose equipment that is user-friendly and easy to maintain, reducing downtime and enhancing overall efficiency.
The Advantages of BTH Lifting Solutions
Improved Productivity: Efficient lifting solutions can significantly streamline material handling processes, reducing downtime, and improving overall productivity.
Enhanced Safety: By using the appropriate below the hook lifting equipment, potential hazards and risks during lifting operations are minimized, safeguarding both personnel and materials.
Precise Load Control: BTH lifting equipment offers precise load control, allowing for delicate or complex operations that require accurate positioning.
Increased Load Capacity: Lifting equipment can increase the load capacity of cranes, optimizing lifting capabilities for larger and heavier loads.
For more details on the advantages of below the hook lifting devices, please see our previous post Top 5 Advantages of Below the Hook Lifting Devices.
Enhance Your Operations with Expert Below the Hook Lifting Solutions
When your focus lies on optimizing operations, increasing productivity, and maintaining a safe working environment, the selection of below the hook lifting equipment plays a pivotal role in achieving these goals and so does choosing the right partner. At ENSER Corp, we understand the critical importance of precision and safety in your material handling processes. Our team of expert engineers is committed to providing tailored BTH lifting solutions that meet your unique requirements. With decades of experience in engineering and a track record of successful projects, we have the expertise to enhance your lifting operations.
Elevate your projects with our Below the Hook Lifting Device services. Explore our comprehensive engineereing services solutions and unlock your company's potential today!
Investing in the right below the hook lifting equipment is a strategic decision that impacts the efficiency and safety of your material handling operations. At ENSER Corp, we are here to guide you through this comprehensive journey, from understanding the various types of lifting equipment to making the right choice for your specific needs. Revolutionize your lifting operations, prioritize safety, and optimize productivity with our expertise. Contact us today to collaborate on below the hook lifting equipment solutions that will elevate your engineering endeavors.