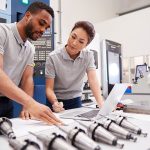 Unlocking the Benefits of Contract Engineering Staffing
October 30, 2023
In modern manufacturing, where precision and speed are paramount, the utilization of cutting-edge prototyping tools has become a pivotal component to stay ahead of the competition. As an engineering services company immersed in the intricacies of manufacturing, particularly in tooling and fixtures, the significance of embracing advanced prototyping tools in mechanical engineering cannot be overstated. This article delves into the intricate interplay between prototyping tools, rapid product development, and design for manufacturing excellence, elucidating how their seamless integration fosters innovation and efficiency in the highly competitive manufacturing industry.
The Crucial Role of Prototyping Tools in Mechanical Engineering
In mechanical engineering, prototyping tools represent the linchpin between conceptualization and tangible realization. These tools, including jigs, precision tooling, assembly tools, and fixture design, enable engineers to materialize their designs into functional prototypes, allowing for comprehensive evaluation and refinement before full-scale production. The ability to swiftly translate design concepts into physical prototypes not only expedites the development process but also facilitates a deeper understanding of the intricate nuances associated with the manufacturing process, thereby streamlining the subsequent phases of production.
Empowering Rapid Product Development
Rapid product development has emerged as a transformative force, propelling businesses towards accelerated innovation and market responsiveness. The integration of advanced prototyping tools in the mechanical engineering process serves as a catalyst for expediting product development cycles. By leveraging these tools, engineers can swiftly iterate through multiple design variations, discerning the optimal configuration that aligns with both functional requirements and manufacturing feasibility. This iterative approach significantly minimizes the time-to-market, enabling companies to swiftly respond to evolving consumer demands and market trends, thus gaining a competitive edge in the industry.
Design for Manufacturing Excellence
Design for Manufacturing (DFM) embodies a strategic approach that emphasizes the seamless integration of design and manufacturing considerations from the outset of the product development lifecycle. The synergy between prototyping tools and DFM principles is pivotal in development of manufacturing excellence. By utilizing prototyping tools specifically tailored for DFM, engineers can preemptively identify potential design flaws and manufacturing constraints, thereby mitigating costly errors and delays during the production phase. The integration of these tools empowers engineers to fine-tune product designs, ensuring optimal manufacturability, cost-effectiveness, and adherence to stringent quality standards, thereby ensuring a culture of operational excellence.
The Evolution of Prototyping Tools in Mechanical Engineering
The advent of advanced technologies, such as additive manufacturing, and advanced simulation software has revolutionized the landscape of prototyping tools in mechanical engineering. Additive manufacturing, commonly known as 3D printing, has redefined the prototyping paradigm, enabling engineers to rapidly fabricate intricate prototypes with unprecedented precision and complexity. Moreover, the integration of advanced simulation software has enabled engineers to conduct comprehensive virtual prototyping, simulating real-world manufacturing scenarios and identifying potential design flaws well before the commencement of physical prototyping. This amalgamation of cutting-edge technologies has ushered in a new era of prototyping capabilities, catalyzing innovation, and efficiency in mechanical engineering.
The Imperative of Seamless Collaboration
In the context of contemporary manufacturing, the seamless collaboration between engineering teams, design experts, and manufacturing specialists is crucial for the successful integration of prototyping tools. Effective cross-functional collaboration facilitates the holistic optimization of product designs, ensuring that the prototypes are not only functional but also aligned with the overarching manufacturing objectives. Through cohesive teamwork and open communication, we can leverage the diverse expertise of each stakeholder, thereby enabling a culture of innovation, agility, and collective problem-solving.
Embrace Cutting-Edge Prototyping with ENSER Corp and Revolutionize Your Engineering Journey:
In the ever-evolving field of mechanical engineering and manufacturing, the integration of advanced prototyping tools has emerged as a transformative catalyst, propelling companies towards enhanced innovation, efficiency, and competitive advantage. By harnessing the power of prototyping tools, we can bolster our rapid product development initiatives, foster design for manufacturing excellence, and foster a culture of continuous improvement and collaboration. Embracing this paradigm shift in prototyping methodologies is not merely a strategic imperative; it is a testament to the resilience and adaptability of our businesses thriving in an increasingly competitive market.
ENSER Corp delivers innovative engineering solutions including tooling and fixtures, product development, testing and staffing. With over 76 years of experience, we have the expertise, resources, and technology to handle your engineering challenges. Whether you need design, analysis, fabrication, or installation, ENSER can provide you with the best quality, cost, and delivery in the industry.