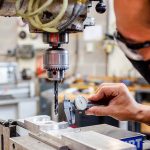 Partnering with Engineering Staffing Agencies: Finding the Right Talent for Your Industry
September 25, 2023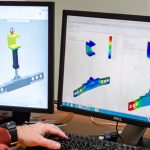 A Simplified Guide to Accurate Virtual Prototyping with FEA Modeling
October 16, 2023
In the realm of mechanical engineering, hoisting equipment stands as a pillar of paramount importance. Whether you're lifting heavy machinery, materials, or components, having a solid understanding of hoisting equipment is essential for safety, efficiency, and project success. In this comprehensive guide, we will demystify hoisting equipment, covering everything from the basics to best practices. So, let's embark on a journey through the world of hoisting, lifting, and rigging.
The Basics: What is Hoisting Equipment?
At its core, hoisting equipment refers to a wide range of tools, machinery, and devices designed to lift and move heavy loads. This equipment comes in various forms and sizes, each tailored to specific lifting needs. Here are some key components of hoisting equipment:
Below-the-Hook Lifting Devices: Below the Hook (BTH) lifting devices are attachments that connect directly to the load and are positioned below the hook of a hoist or crane. They include lifting beams, spreader bars, lifting clamps, and other devices designed to securely hold and distribute the weight of the load.
Crane Attachments: Crane attachments are specialized tools that connect to cranes and hoists, allowing them to handle specific types of loads or perform unique lifting tasks. Examples include electromagnets for lifting metal materials and vacuum lifters for handling fragile objects.
Hoisting Equipment and Rigging Gear: This category encompasses the broader range of equipment used in lifting, including cranes, hoists, winches, slings, shackles, and more. These devices work together to safely raise, lower, and transport heavy loads.
The Role of Hoisting Equipment in Mechanical Engineering
Mechanical engineering projects often involve the handling of substantial loads, making hoisting equipment indispensable. Here's why it plays a pivotal role:
Safety First: Safety is paramount in mechanical engineering. Hoisting equipment is designed with safety features to prevent accidents and protect both workers and valuable assets. Properly selected and maintained equipment ensures that lifting operations are carried out without incident.
Efficiency and Productivity: Hoisting equipment significantly improves productivity by reducing the time and effort required for lifting and moving heavy loads. It allows for precise positioning and controlled handling, resulting in faster project completion.
Versatility: The versatility of hoisting equipment makes it suitable for a wide range of applications. Whether you're lifting steel beams on a construction site or delicate components in a manufacturing facility, there's a hoisting solution for the task at hand.
Types of Hoisting Equipment
Now, let's explore some common types of hoisting equipment and their applications:
Cranes: Cranes are perhaps the most recognizable type of hoisting equipment. They come in various configurations, including overhead cranes, mobile cranes, and tower cranes. Cranes are used for tasks such as heavy material handling, construction, and container loading and unloading.
Hoists: Hoists are compact lifting devices that can be mounted on beams, gantries, or trolleys. They are ideal for lifting and lowering loads in a controlled manner. Electric chain hoists and wire rope hoists are commonly used in mechanical engineering.
Lifting Beams: Lifting beams are BTH lifting accessories that are used to spread the load's weight across multiple lifting points. They are particularly useful when lifting loads with irregular shapes or long spans.
Spreader Bars: Spreader bars are like lifting beams but have multiple attachment points at each end. They are used to maintain balance and stability when lifting wide or bulky loads.
Lifting Clamps: Lifting clamps are designed to securely grip and lift materials like steel plates, pipes, and concrete blocks. They come in various types, including vertical and horizontal clamps, and are essential for precise material handling.
Best Practices for Hoisting Equipment
Understanding hoisting equipment is crucial, but equally important are the best practices that ensure safe and efficient use. Here are some guidelines to follow:
Equipment Inspection and Maintenance: Regularly inspect and maintain hoisting equipment to ensure it is in proper working condition. Any signs of wear, damage, or malfunction should be addressed promptly.
Proper Training and Certification: Ensure that operators and riggers are properly trained and certified to use hoisting equipment. Training should cover safe operating procedures, load calculations, and equipment-specific knowledge.
Load Calculations: Calculate the weight and center of gravity of the load to determine the appropriate hoisting equipment and configuration. Overloading is a common cause of accidents and equipment damage.
Use Appropriate Attachments: Select BTH lifting accessories and crane attachments that are suitable for the load's shape, size, and weight. Using the right equipment enhances safety and efficiency.
Communication: Establish clear communication between the hoist operator and the personnel on the ground. Use hand signals or radios to ensure everyone is on the same page during lifting operations.
Load Securement: Secure the load properly using slings, chains, or other rigging gear. Make sure the load is balanced and that attachment points are secure.
Preventative Measures: Implement safety measures such as barricades and warning signs in the lifting area to keep unauthorized personnel away during operations.
Elevate Your Projects with Our Hoisting Equipment Expertise
Hoisting equipment is the backbone of mechanical engineering projects that involve heavy lifting. From cranes to hoists, lifting beams to lifting clamps, these tools empower engineers to handle substantial loads safely and efficiently. By adhering to best practices and ensuring proper training, the engineering community can continue to harness the potential of hoisting equipment while prioritizing safety above all else. Contact us today if you're seeking to elevate your manufacturing processes, optimize lifting material operations or require a custom lifting equipment solution.